Cook with the Senses

A thesis project that I worked on over the course of my final year studying Communication Design at Emily Carr University. This project is an experimental approach towards designing with the senses.

Food is an evocative material that nurtures connections to one another through cultural and personal histories it activates through the senses. Seeking beyond vision, this project explores how reevaluating seemingly mundane interactions with food sparks new perspectives on collaborative and creative design practices.

Gathering inspiration from food as a creative and communication medium, this project is visualized through 3 different print forms: Palate Papers embossed paper tiles, Cook with the Senses publication, and Design with the Senses zine.
FORM 1 / Palate Papers
Palate Papers is an experimental exploration of food textures through pattern making and paper embossing.

With a focus on reevaluating food's creative qualities and our sense of touch, each of the 16 patterns were designed to be experienced by the hand. The embossed patterns are visually subtler, cultivating our acute sensory perceptions to distinguish degrees of flatness, smoothness, and depth in the papers.
1 / Pattern Making
2 / Laser Cutting
3 / Embossing
Particular about Paper: White objects, including paper, reflect and scatter all the visible wavelengths of light. Observing how various shades of white paper reflected the emboss and its shadows differently, white and natural white papers were selected to be embossed.
FORM 2 / Cook with the Senses
Cook with the Senses is a publication featuring family recipes and storytelling through writing and photography. Through sharing experiences with people, time, and place, the book explores the threads connecting food, culture, and identity.

"Senses" not only refers to the multi-sensory experience of both food and design, but also the feelings and connections we have with and through food. This publication highlights the themes: sense of home, season, connection, and place.

Sense of Home
Sense of Season
Sense of Connection
Sense of Place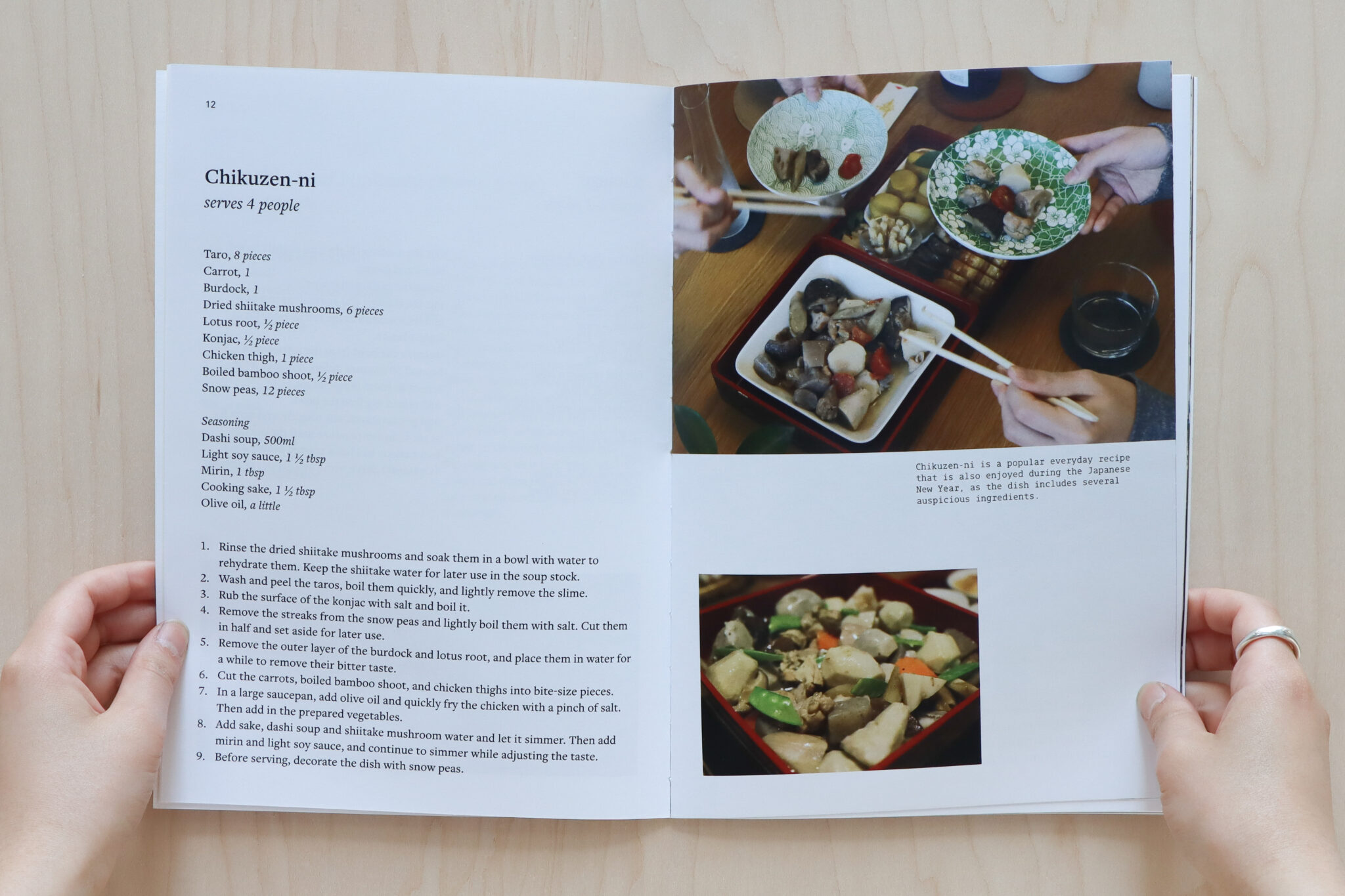 FORM 3 / Design with the Senses
Design with the Senses is a zine that serves as an archive of collaborative food and design workshops completed with students at Emily Carr University. These workshops focused on the relationship between food, design, and community.
Featuring a collaborative Food & Lettering Workshop organized with Clara NgieThe workshop took place on March 2nd and March 7th of 2023, where seven bilingual ECU students and instructor Reyhan Yazdani participated in generating conversations around food-making, sharing cultural experiences, and languages used in the context of food habits. Combining our multicultural backgrounds and creative skills, we designed workshop kits, conversation prompts, promotional event posters and invitation cards.
Featuring an in-studio Visualize with the Senses Workshop This workshop was started and completed during one studio class time, where I asked 15 students to visualize their sense of different tastes of sour, sweet, bitter, spicy, salty, and umami. Recognizing a connection between our distinct sense of tastes and visual design's intuitive and personal aspects, interpretations and expressions with colour, shape, sound, and movement were explored.
EXHIBITION DESIGN & PLANNING
The Grad Show took place at Emily Carr University throughout May 11—26th of 2023.
Working with the university's woodshop technician, Brian Fössl, I designed and built a custom plywood standing wall + table for my exhibit. One of the main reasons why I worked with plywood was to create contrast with my white and cream Palate Paper tiles. As well, plywood was very accessible at my university, and I designed it so it can be taken apart and be reused for future exhibitions.

I also designed a wayfinding signage to stretch and hang a silkscreen printed fabric showcasing my title. The locaiton of my installation was right around the corner of a shared wall space, so I took this opportunity to create a standing signage that can be seen as people walk towards the area.